First of all, we would like to thank you for visiting our website, and express our gratitude that you took your time for reading about us.
Let us introduce ourselves to you…
Neel con d.o.o. is a specialized licensed real estate agency that started operating in 2013, with a registration number of 91/2013.
Our business is oriented mainly to the wider area of the City of Pula, but we cover also the entire Istria County.
The Neel Con team of always available, educated professionals will provide you with quality service while saving your time with a full range of tips. We provide you with legal certainty in resolving all administrative barriers when buying and selling real estate with a personalized approach.
When it comes to real estate and housing, we are guided by positive energy, integrity and enthusiasm, putting on your disposal our knowledge and experience, adapting to your specific needs in order to realize the complete buying and selling process as soon as possible.
We are guided by the principles of a good enterpreneur, while our profiled real estate portfolio is available to domestic and foreign clients to whom we provide a complete service until the realization of the desired sale.
In our database we offer a wide range of real estate whose number is increasing on a daily basis, believing that for every potential client exists its perfect property macth.
Neel con d.o.o. is a member of the Croatian Chamber of Commerce, a signatory to the Code of Ethics for Real Estate Brokers, and part of the websites of authorized agents and brokers AGENTI.HR
We cooperate with law firms and various specialists in order to always have timely and complete information provided to our clients, ensuring them legal protection throughout the entire the sales process.
Through professional activities, we provide you with a complete and specialized service that includes all administrative and technical support until the delivery of the certificat of ownership, as well as the after-sales services that include consulting and construction.
We hope that you will enjoy the offer of our website that we have prepared for you from the offer of the real estate itself to the additional services we can offer you.
If you have additional questions, doubts or want to praise us or present certain criticisms, please contact us at info@neelcon.hr, because only by working together and professionally investing in our knowledge, we can reach a common goal of a satisfied client-agent.
Because your satisfaction is a guarantee for our success!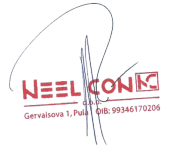 Nenad Popović