Neel con d.o.o. is specialized licensed real estate agency, which began with its operations in 2013.
Our business is mostly oriented on the wider area of ​​the city of Pula, and the Istrian peninsula.
NEEL CON team is made of always available, trained professionals that will provide you with quality service while saving your time, help you in your decision by giving you a comprehensive array of tips, while at the same time provide legal certainty to resolve all administrative barriers through a completely personalized relationship.
When it comes to real estates and housing, we are guided by positive energy and enthusiasm, putting on your disposal our expertise and adapting it to your specific needs in order to promptly find or sell a property which best suits you.
We operate in accordance with the principles of good entrepreneur, while our real estate portfolio is also available to foreign clients for whom we provide a full service until the realization of the desired transaction.
In our database, we offer a wide array of real estates whose number is increasing on a daily basis, believing that for every potential client exsists its perfect property match.
Neel con doo is a member of the Croatian Chamber of Commerce, and part of Web sites authorized agents and real estate brokers AGENTI.HR.
We cooperate with law firms and other specialized firms in order to give our clients always a complete and accurate information ensuring legal protection throughout the whole sales process.
Through our professional activities we offer you a complete and specialized service that covers all administrative and technical support until the delivery of deed.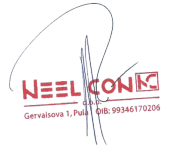 Nenad Popović